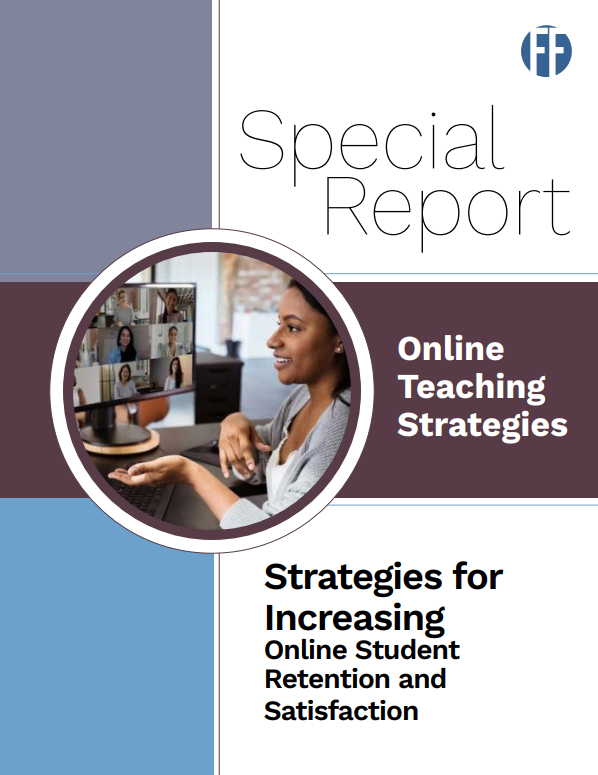 Despite the tremendous growth of distance education, retention remains its Achilles' heel. As an increasing number of colleges and universities identify online education as a critical component to their long-term strategy, the issue of retention can no longer be ignored. It is mandatory for everyone who teaches the distance learner to understand why these students leave their online courses, and what it will take to keep them there.
If you're looking for smart strategies that will help you stem the tide of online student attrition, you'll want to download this FREE special report: Strategies for Increasing Online Student Retention and Satisfaction.
This report is free when you sign up for Faculty Focus, a free newsletter with effective pedagogical techniques to bring with you to both the classroom and online!
This special report provides practical strategies for improving online student retention, engagement and satisfaction. Articles include:
Strategies to Improve Retention in Online Courses and Programs
Developing the Professor-Student-Student Bond in Virtual Courses
Understanding the Impact of Attrition on Your School
Reducing the Risk: Effects of a First-Year Experience Course for Non-Traditional Students
Eight Suggestions to Help You Get Your Retention Act Together
Nine Truths About Recruitment and Retention
From Fringe to Mainstream: Increasing the Acceptance of Online Education on Your Campus
One Change that Increases Student Persistence, Retention, and Satisfaction
The Teaching Practices of Award-Winning Online Faculty