Although there's some disagreement as to whether distance education is more susceptible to academic dishonesty than other forms of instruction, what isn't up for debate is the fact that for as long as there's been exams, there's been cheating. The online environment simply opens up a different set of challenges that aren't typically seen in traditional face-to-face courses.
If you teach online or manage the distance education program for your school, the issue of academic integrity is always top of mind. This free report features nine articles from Distance Education Report that will give you the latest techniques and technologies for mitigating cheating and other unethical behaviors in your online courses.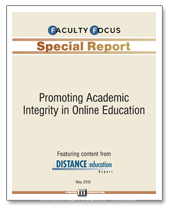 Promoting Academic Integrity in Online Education
This special report is free when you sign-up for Faculty Focus, a free online resource filled with effective teaching strategies written by faculty members just like you.
You can read about many of them here in Promoting Academic Integrity in Online Education. The 20-page special report features these articles:
Combating Online Dishonesty with Communities of Integrity
The New News about Cheating for Distance Educators
A Problem of Core Values: Academic Integrity in Distance Learning
Student Authentication: What Are Your Duties Under the HEA Reauthorization?
91 Ways to Maintain Academic Integrity in Online Courses
Remote Proctoring: Key to Secure Exam Administration?
A Chink in Our Armor: Can Technology Provide a True Online Proctored Exam?
Practical Tips for Preventing Cheating on Online Exams
Identity Gift: The Opposite of Identity Theft?