After years of teaching face to face, many instructors are able to begin teaching a traditional, classroom-based course without having the entire course laid out ahead of time. This approach doesn't work very well in the online classroom where careful planning and course design is crucial to the success of online students.
Good online course design begins with a clear understanding of specific learning outcomes and ways to engage students, while creating activities that allow students to take some control of their learning.
If you're looking for best practices in developing online courses, you'll want to download this FREE special report Online Course Design: 13 Strategies for Teaching in a Web-based Distance Learning Environment.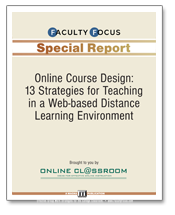 Online Course Design: 13 Strategies for Teaching in a Web-based Distance Learning Environment
Online Course Design: 13 Strategies for Teaching in a Web-based Distance Learning Environment is a great resource for anyone who's involved in online learning revolution. Just look at the insightful articles featured in the report:
10 Tips to Extend the Shelf Life of Your Online Course
Subdivided Courses Help Students Learn in Small Increments
Adaptive Hypermedia for Individualized Learning
To Plan Good Instruction, Teach to the Test
Posting Handouts Online Introduced Instructor to Online Learning Possibilities
Empowering Students to Become Self-Directed, Engaged Learners
Web-based Video Lecture Courses Meet High Demand, Allow More Learner Control
The Seminar as a Good First Venture into the Online Classroom
A Guide to Creating Modular Courses
How to Eliminate Sources of Frustration for the Online Learner
Using Pre-admission Assessments to Help Online Students Succeed
Usability Issues That Impact Online Learning
The Importance of Intuitive Navigation in Online Course Design