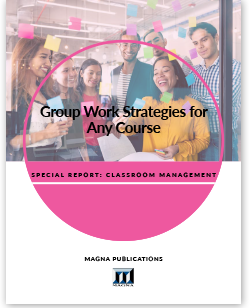 Love or hate it, group work can create powerful learning experiences for students. Although you may hear a few groans from students when mentioning group work, group work can foster inspiring content, collaboration, and an abundance of new skills. So why is it that so many students (and some faculty) dislike it so much?
If you're looking to change the way your students think about group work, you'll want to download this free special report Group Work Strategies for Any Course.
This special report is free when you sign-up for Faculty Focus, a free online resource filled with effective teaching strategies written by faculty members just like you.
You'll find the following articles in this free report:
What Components Make Group Work Successful?
Four Types of Group Work Activities to Engage Students
Pairing vs. Small Groups: A Model for Analytical Collaboration
Dealing with Students Who Hate Working in Groups
Use the Power of Groups to Help You Teach
Small Group Discussion Tasks
Holding Students Responsible for What Happens in Groups
Better Understanding the Group Exam Experience
Students Riding on Coattails During Group Work? Five Simple Ideas to Try