Designing an online course shares many of the same elements and processes that go into designing a traditional face-to-face course, however the online environment brings a unique set of challenges that require special attention and a different approach.
Faculty charged with developing their own online courses can find learning the new technology particularly frustrating, and those who are not early adopters to technology might resist the process entirely. Many institutions are realizing that the development and delivery of online courses is an increasingly complicated process, requiring both a specialized pedagogy and a technological expertise – and it's rare to find both qualifications in the same person.
Getting started with online course design and development
In the article "The Collaborative Approach to Developing Online Courses," the author explains how one university adopted a centralized and standardized approach to the design, development, and management of online programs that respects the talents of both instructional designers and faculty by allowing each to work in their own specialty. As a result, courses have the same quality standards and a more consistent look and feel.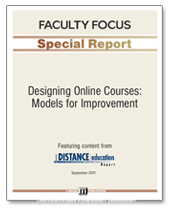 Designing Online Courses: Models for Improvement
This 20-page special report features eight articles pulled from the pages of Distance Education Report, and covers a variety of different aspects of online course design. Take a look at the articles you will find in the report:
The Collaborative Approach to Developing Online Courses
Building Course Quality Systematically
Who Ya Gonna Call When a Course Needs Help?
Developing a Course Maintenance Process for Your Online Courses
What Learning Object Repositories Mean for Your Program
Practice Simple and Effective Course Design—Use the Learning Experiences Framework
Is There Too Much Interaction in Your Courses?
Rapid Online Course Design: Course Development in Days
Whether you're developing a new online course from scratch, or updating one that's starting to show its age, this report will give you new ideas to consider.
Join the Faculty Focus community for full access to all our special reports!
Faculty Focus contains a wealth of valuable material on all of the key issues that matter to today's top faculty and administrators. It's packed with strategies, tips, and other information you can use on the topics that impact your students, your school, and your work, including:
Student Engagement
Instructional Design
Online Education
Classroom Management
Educational Assessment
Teaching with Technology
Faculty Development
Curriculum Development
Trends in Higher Education
And much, much more.