Much has been written about the challenges of teaching an online course. While not discounting the unique (and sometimes frustrating) aspects of the online learning environment, it could be said that, despite the numerous differences, many of the same course management strategies that are essential to success in a traditional classroom also apply in the online classroom.
A strong syllabus, clear directions, well-organized materials, and timely feedback are the building blocks of any course management plan … whether you teach online or face to face.
Of course, the big challenge for online instructors is that the very nature of online education amplifies the importance of properly addressing these management issues, while throwing a few more additional obstacles into the mix. So if you think the flexibility of online teaching also means that it's OK to "wing it" now and then, you'd be wrong. If anything, you have to be more organized, more consistent and more prepared for anything than ever before.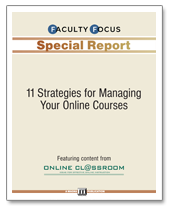 11 Strategies for Managing Your Online Courses
Choosing the right communication tools and protocols, addressing technology problems, managing student expectations, and building community are just some of issues that can stretch online instructors to the breaking point.
Online course management tips for effective teaching and learning
11 Strategies for Managing Your Online Courses was created to help online instructors tackle many of the course management issues that can erode the efficiency and effectiveness of an online course. It features 11 articles pulled from the pages of Online Classroom, including:
Syllabus Template Development for Online Course Success
The Online Instructor's Challenge: Helping 'Newbies'
Virtual Sections: A Creative Strategy for Managing Large Online Classes
Internal or External Email for Online Courses?
Trial by Fire: Online Teaching Tips That Work
The Challenge of Teaching Across Generations
Remember, you're not the only one who may be a little anxious about going online. Students often have anxiety when taking their first online course as well. It's up to you to help them feel more confident and secure, all the while keeping your workload at a manageable level. The course management tips in this 2009 report will help.
Faculty Focus contains a wealth of valuable material – not just about online course management, but all of the key issues that matter to today's top faculty and administrators. It's packed with best practices, tips, and other information you can use on the topics that impact your students, your school and your work, including:
Instructional Design
Faculty Development
Teaching Strategies
Distance Learning
Classroom Management
Educational Assessment
Faculty Evaluation
Curriculum Development
Trends in Higher Education
And much, much more.