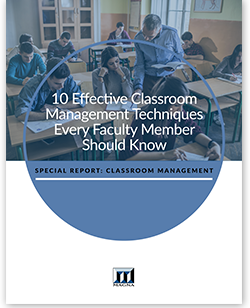 10 Effective Classroom Management Techniques Every Faculty Member Should Know features 10 different approaches to classroom management from those on the front lines who've met the challenges head-on and developed creative responses that work with today's students.
This special report is free when you sign-up for Faculty Focus, a free online resource filled with effective teaching strategies written by faculty members just like you.
Articles Include:
How to Get Wet Without Plunging In: Creative Ways to Start Class
Exploring What the Syllabus Communicates
Getting to Know You: The Importance of Establishing Relationships
Conditions Associated with Classroom Conflict
Those Students Who Participate Too Much
Technology Policies: Are Some Better Than Others?
Use 'Stuff Happens' Cards to Handle Student Excuses
Humor: Getting a Handle on What's Appropriate
A Behavior Contract That Made a Difference
Collaboration or Cheating: What Are the Distinctions?