| | |
| --- | --- |
| Product | Whiteboard (Splashtop) |
| Category | Productivity |
| Overview | A really neat way to wirelessly connect iPad with PC or Mac. Android tablet version coming soon. |
| Learning Curve | Intuitive |
| Rating (5 star scale) | Great way to become mobile in the classroom. |
| Cost: | $19.99 |
I have been looking for a reliable iPad app that would allow me to remotely connect and control my PC or Mac and I finally found one that works well! The app is Whiteboard by Splashtop and the wireless connection between iPad and PC/Mac is seamless and dependable. Connection is a HUGE issue when working with wireless technologies because the last thing that any presenter wants is to spend time figuring out technical glitches. Configuring Whiteboard requires that both iPad and Mac/PC are connected to the same WiFi, which admittedly can be a problem on most campuses for security or other reasons. My simple work around is to use an ad hoc network (an Airport Express will do just fine) if all I want to do is have wireless control of my PC or Mac from the iPad. Another option is to use a MiFi assuming you have one.
Podium presenters may not have much of an interest in Whiteboard, but if you like the freedom to move around the classroom, being able to solicit or encourage direct audience participation with what is being projected, then you will find that there is much to like about Whiteboard. My first experience with wireless control of the PC/Mac was with Splashtop's Remote Desktop ($4.99) but I was soon sold on Whiteboard because it allows both control of my computer and the use of a virtual whiteboard thus making the app a two for one value! Using Splashtop's Whiteboard, unlike one of its competitor's, does not require that you perform any sort of technological gymnastics to connect iPad and computer; Whiteboard just does it and nothing could be simpler!
The cost of Whiteboard is rather high ($19.99), however, when you consider that the plug-in for all computers—Mac or PC—is free and you get rock solid reliable operation then what's not to like about the whole package? I also like being able to use my iPad on two computer systems, PC or Mac. However, one of the things that I would really like is mirroring capability so that I can project what is on my iPad. It would also be nice if users could have a presentation mode with the ability to blank out the projected screen but still have the option of seeing content on their iPad. This would be a really neat way of allowing presenters to go paperless with their presentation notes on the iPad and then be able to switch to presentation mode as needed, something I am able to do with Apple's Keynote app.
Here are some ways to use the Remote Desktop app.
Launch previously labeled graphical files on Mac or PC for examination and discussion.
Launch a brain storming or concept mapping application; give a student your Bluetooth iPad keyboard and have them enter text into maps as a way to order ideas being generated.
Launch the virtual whiteboard (touch the pen icon in Splashtop's Whiteboard) to create a diagram, solve a problem, or label an illustration. There is a bit of a delay here so you will need to take this into consideration.
Want to divert attention away from a PowerPoint slide in order to facilitate some conversation? Click on the virtual keyboard while in Splashtop's Whiteboard touch the letter "B" to make the screen go black or blank. To resume your presentation, simply touch any area of the screen to un-blank and reveal your projected slide.
Okay, you get the idea. Now it's your turn to experiment.
The Competition
There are a few different products available to help you connect to your PC remotely. One is GoToMyPC, but who wants to pay $9.95 a month or $119.40 a year? Desktop Connect ($14.99) appears to be a viable option but like Air Display ($9.99), I really do not want to fuss with connection issues and IP address. Other issues for connecting iPad to PC or Mac appear to be related to Remote Desktop Protocol (RDP) and Virtual Network Computing (VNC) which few iPad users understand and want to fuss with. I recently heard about iTeleport ($24.99) but I am not sure I want to spend that much just to 'try' something unless it is significantly better. For now, I think I will stay with Splashtop's Remote Desktop or their Whiteboard version.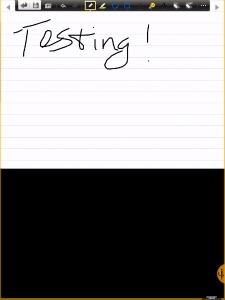 Dave Yearwood is an associate professor and chair of the technology department at University of North Dakota.